Stackr
A downloadable tool for Windows and macOS
Stackr is a simple tool for previewing models using the method commonly known as "Sprite Stacking", where the frames of a spritesheet are stacked in order to produce a faux-3D effect.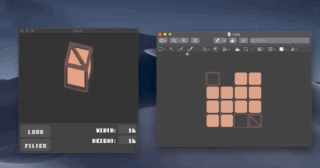 Stackr is best used as a companion to your drawing program of choice while designing models, as it watches the currently loaded image file and updates the model whenever the file updates.
Want to report a bug or request a feature? Open an issue on Github!
How to use
Click the Load button and select the spritesheet (.png or .jpg) to load
Set the width and height values to match the frames of the spritesheet
If there is no file loaded, or the width/height are incorrect, the default chair model will display instead
Controls
Scroll Camera - Arrow Keys
Zoom Camera In/Out - Mouse Wheel
Rotate Camera - Click and Drag Mouse
Download
Click download now to get access to the following files: